id:a1249275700b2928485
2006 Daihatsu Be-Go
Photo #1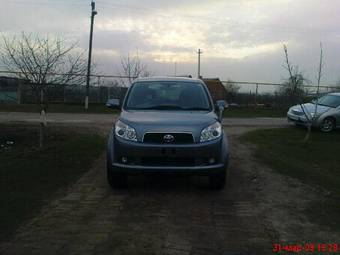 Photo Information (Width: 340px, Height: 255px, Size: 10Kb)
More photos of
Daihatsu Be-Go
Daihatsu Be-Go Problems
3sz
2007, O/D OFF light is flashing on a Daihatsu
Bego, causing it to jerk when engangig the gear
...
O/D light flickers
2015, O/D light flickers. Atf was changed but
problem still there. What can be the cause.
Urge...
| | |
| --- | --- |
| Engine size - Displacement - Engine capacity: | 1500 cm3 |
| Transmission Gearbox - Number of speeds: | Automatic |
| Fuel Type: | Gasoline |
| Drive wheels - Traction - Drivetrain: | FR or RR |
| Price (out of date): | $19000 |
2006 Daihatsu Be-Go specs, Engine size 1.5, Fuel type Gasoline, Drive wheels FR or RR, Transmission Gearbox Automatic
Daihatsu Motor Co., Ltd. (ダイハツ工業株式会社, Daihatsu Kōgyō Kabushiki-gaisha ?, TYO: 7262, OSE: 7262) is a Japanese manufacturer of cars, well known for its smaller models and off-road vehicles. Many of its models are also known as kei jidosha (or kei cars) in Japan.

The name "Daihatsu" is a combination of the first kanji for Osaka (大) and the first of the word "engine manufacture" (発動機製造, hatsudōki seizō ?); when put together they are pronounced "dai hatsu."
Used Daihatsu Be-Go
Daihatsu was formed in 1951 as successor organisation to Hatsudoki, and by the 1960s had started exporting cars to Europe, although it did not enjoy any major sales success until well into the 1980s.
Since February 1992 in North America, it has been common for Toyota to distribute Daihatsu models.
1907 – Hatsudoki Seizo Co., Ltd. founded
1951 – Company renamed: Daihatsu Motor Co., Ltd.
1967 – Signed an agreement with Toyota Motor Corporation
1988 – Daihatsu USA launched with the Charade and Rocky
1992 – Daihatsu USA shuts down in February
1999 – Toyota gains a controlling interest (51%) in Daihatsu Motor Ltd.
It was reported on 31 March 2005 that Toyota would withdraw Daihatsu from the Australian market after sales fell heavily in 2005, in spite of the overall new-car market in Australia growing 7%. Daihatsu wound up its Australian operations in March 2006 after almost 40 years in the market.



» Read More About Daihatsu