id:a1240508818b2633912
2003 Citroen C2
Photo #1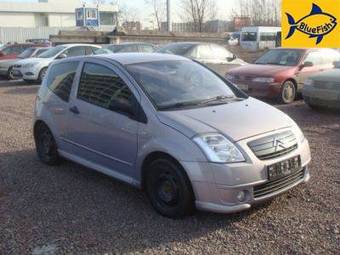 Photo Information (Width: 340px, Height: 255px, Size: 17Kb)
| | |
| --- | --- |
| Engine size - Displacement - Engine capacity: | 1600 cm3 |
| Price (out of date): | $8335 |
2003 Citroen C2 specs, Engine size 1.6l.
The Citroën C2 is a supermini produced by the French manufacturer Citroën since 2003. A completely different car, based on the Peugeot 206, is sold in China as the C2.

Along with the Citroën C3, the C2 was intended to replace the popular Citroën Saxo. The two cars have relatively different designs allowing Citroën to grab different sub-markets of the supermini class. The C2 was designed by Donato Coco. The C3 was originally designed as a larger "family friendly" vehicle" being 5 doors, whereas the C2 is seen as a "young driver" image with 2 doors and flatter styling, though still with low power.
The L model is the "no-frills" version of the C2 and comes with basic equipment, including black plastic bumpers and no fog lamps. The LX model, produced from 2003 to 2005, came with black lower bumper and door handles, CD player, rear seat modulation and no fog lamps. The Design includes body-coloured bumpers and electric windows. The SX is the luxury spec. It features 'bumper colour coded paint' and air conditioning, the latter of which has an unfortunate effect on the 1.1 SX performance, increasing the 0-100 km/ h time by 3 seconds to 17.2 seconds.

The Furio, VTR and VTS are the sports models which made the C2's predecessor, the Saxo, famous as an affordable, sporty-looking and very fast 'pocket rocket'. The Furio has exactly the same sports body kit as the more expensive VTR and VTS models but lacks the alloy wheels of those models.

The VTR also has an adequate 110bhp (82kW; 112PS) engine, whereas the VTS is the premium sports model, with a 125bhp (93kW; 127PS) engine capable of accelerating from 0 to 60mph (97km/ h) in 8.2 seconds, seen as sluggish by modern hot hatch standards where the fastest hot hatch achieves 5.3 seconds (Clio V6), although this is obviously designed to be more insurance-friendly. Other additions which helped the VTS model achieve a low insurance rating (in the UK) were security based including deadlocks and a Thatcham Category 1 alarm system which includes perimeter and volumetric detection as well as engine immobiliser.



» Read More About Citroen C2