id:a1217399726b1922372
1995 Chrysler Stratus
Photo #2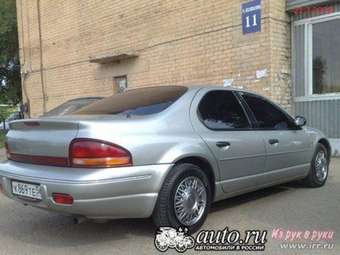 Photo Information (Width: 340px, Height: 255px, Size: 13Kb)
More photos of
Chrysler Stratus
Stratus Troubleshooting
Wiring
1998, the wiring where cut off from the engine
i would like a picture of the connections of th...
I want to buy.
1995, Electrical problem with the brian box. I
want to buy the brian box so let me know the p...
Transmissioncomesoutofhightonuetral
1995, transmission comes out of gear, to
nuetral. whencar slows to 45 itdrops to low
and will...
1995 Chrysler Stratus specs: mpg, towing capacity, size, photos
| | |
| --- | --- |
| | The Dodge Stratus (and its twins, the Chrysler Cirrus and Plymouth Breeze; collectively known as the "Cloud Cars") was a mid-size 4-door sedan introduced in 1995. It was based on the Chrysler JA platform Cab forward (car). The Stratus, Breeze, and Cirrus were all on Car and Driver magazine's Ten Best list for 1996 and 1997. It received critical acclaim at launch, but ratings fell over time. Production ended at the Sterling Heights Assembly Plant in early 2006 which had built 1,308,123 Stratus and Sebrings since 2000.The Dodge Avenger replaced the Stratus nameplate in early 2007 for the 2008 model year. |
The Dodge Stratus, the middle entry of the JA platform (with the Cirrus being the higher-end model and the Breeze being the lower-end model), was introduced in 1995 with two models: the base (later renamed SE in 2000), which came standard with the 2.0L straight-4 and had the SOHC 2.4L as optional; and the ES, which came standard with the a 2.0L from 1995-1997, and had a DOHC 2.4L and a 2.5L V6 as optional. In 1998 the 2.4L was standard and the 2.5L V6 was optional on the ES, and from 1999-2000, the 2.5L V6 was the only engine on the ES model.

The Stratus directly replaced the high-volume Dodge Spirit to favorable reviews, but lower sales. It was often compared to other small mid-sizes such as the Chevrolet Malibu, and judged roomier than the Ford Contour by many magazines such as Consumer Reports. While the extended Ks had previously been Chrysler's main midsize offerings, the larger LH and LX platforms, conceived as replacements for the Dodge Dynasty and Dodge Monaco, would more directly compete with the Ford Taurus, the upsized Honda Accord and Chevrolet Lumina.



» Read More About Chrysler Stratus