id:a1240526429b2639291
Built on the Silverado chassis and powered by either a 5.3L or 8.1L V-8 engine, the Avalanche is a four-door vehicle capable of seating six in its SUV-like interior, while still providing a 5ft. truck bed. Or, by folding down the Midgate and rear seating, one person can reconfigure the cargo area in seconds to provide either an open, or fully enclosed and lockable 4ft. x 8ft. cargo box.
2004 Chevrolet Avalanche
Photo #10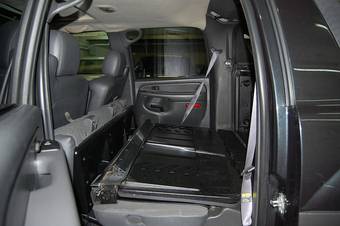 Photo Information (Width: 340px, Height: 226px, Size: 12Kb)
| | |
| --- | --- |
| Engine size - Displacement - Engine capacity: | 5327 cm3 |
| Transmission Gearbox - Number of speeds: | Automatic |
| Fuel Type: | Gasoline |
| Price (out of date): | $33900 |
2004 Chevrolet Avalanche specs, Engine size 5.3l., Fuel type Gasoline, Transmission Gearbox Automatic
Chevrolet (IPA: / ˌʃɛvroʊˈleɪ/ - French origin) (also known as Chevy) is a brand of automobile, produced by General Motors (GM). It is the top selling GM marque, with "Chevrolet" or "Chevy" being at times synonymous with GM.

Chevrolet offers 18 vehicles and many different enhanced versions in its home market. The vehicles range from subcompact cars to medium duty commercial trucks. Its number one seller in the United States is the Silverado pickup. Chevrolet continues to be the performance, price, MPG, and value leader for General Motors North America.
North American history
Chevrolet was founded by Louis Chevrolet (Swiss-French) and William C. Durant (American). Louis Chevrolet was a race-car driver, and William Durant, founder of General Motors, had been forced out of GM in 1910. He wanted to use Chevrolet's designs to rebuild his own reputation as a force in the automobile industry. As head of Buick Motor Company, prior to founding GM, Durant had hired Chevrolet to drive Buicks in promotional races.

Chevrolet first used its "bowtie" logo in 1913. It is said to have been designed from wallpaper Durant once saw in a French hotel. Another theory is that it is a stylized version either of the shape of Switzerland or the cross on the flag of Switzerland, Louis Chevrolet's birthplace.

In 1915, Durant was in the process of setting up Chevrolet production facilities in Toronto, Canada. Later that year, during a luncheon meeting in New York with "Colonel Sam" McLaughlin, whose McLaughlin Motor Car Company manufactured McLaughlin-Buick cars, it was agreed that Chevrolets with McLaughlin-designed bodies would be added to the Canadian company's product line. Three years later, the two Canadian operations (Chevrolet was by then a part of GM in the United States) were bought by GM to become General Motors of Canada Ltd.



» Read More About Chevrolet