id:659109
For 2004 the Buick Rendezvous is available in four trim lines, the CX, CX AWD, CXL and CXL AWD models.
2003 Buick Rendezvous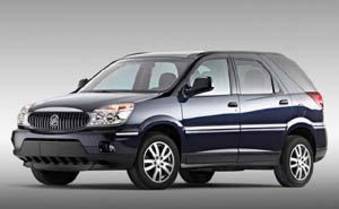 Photo Information (Width: 339px, Height: 209px, Size: 9Kb)
More photos of
Buick Rendezvous
Rendezvous Troubleshooting
Engin surging
2003, when the accelerator is depressed the
just surges and of course that without real
power....
| | |
| --- | --- |
| Engine size - Displacement - Engine capacity: | 3 cm3 |
| Transmission Gearbox - Number of speeds: | Automatic |
| Price (out of date): | $40000 |
2003 Buick Rendezvous specs, Engine size 3cm3, Transmission Gearbox Automatic
The Buick Rendezvous, introduced in the spring of 2001 as a 2002 model year vehicle, was a sport utility vehicle that was sold by the Buick division of General Motors.

Given the fact that the vast majority of SUVs were rarely taken off-pavement by their owners, much less driven under serious off-road conditions, a new type of car-based "crossover SUV" was developed that was hoped would provide all the elements that customers actually wanted from their SUVs such as cargo carrying capacity, elevated seating height and the suggestion of an active outdoor lifestyle with less of the negative attributes typically associated with traditional SUVs such as poor gas mileage, uncomfortable ride, high step-in height, propensity to roll over, etc. The formula of a car-based "soft-road" luxury SUV had proven marketable by the highly successful Lexus RX300 and was thought to be a promising new market category for Buick to exploit within this extremely profitable portion of the ever-expanding SUV category.
Buick's first truck in its lineup since 1923, the Rendezvous was billed as a combination of the best attributes of a minivan (large cargo capacity, seating for up to seven), a luxury automobile (ride, handling, smoothness) and a sport utility vehicle (truck styling and available all wheel drive).

The Rendezvous was produced at General Motors' Ramos Arizpe, Mexico assembly plant, where it shared an assembly line with the Pontiac Aztek.

In lieu of four-wheel drive, the Rendezvous offered Versatrak, a full-time, fully-automatic all-wheel drive system which provided sure-footed traction in the snow and wet, could handle moderate off-road surfaces, but was not meant for boulder-climbing Rubicon Trail-type activities.

Like the Pontiac Aztek, the Buick Rendezvous is based on a shortened version of GM's second generation U platform minivans.

Buick benchmarked their Park Avenue luxury sedan as the prototypical target for ride and handling for the Rendezvous. In order to provide a luxurious and responsive car-like ride, all Rendezvous came equipped with a fully independent rear suspension system regardless of optional content or trim level.



» Read More About Buick Rendezvous