id:a1236251500b2453488
1988 Buick Century
Photo #1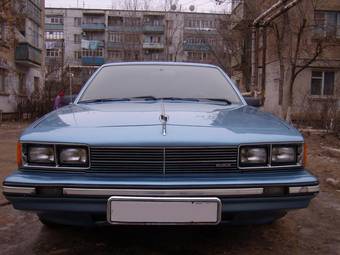 Photo Information (Width: 340px, Height: 255px, Size: 14Kb)
More photos of
Buick Century
Buick Century Problems
Firing
1988, i have a fresh battery no fire to the
coil packs or ignition modual changed the
ignition...
The Century comes with a 3.1-liter V-6 with 160 hp and a 4-speed automatic transmission. ABS is standard and it's available in 4 doors only.
1988 Buick Century specs
Buick Century is the model name used by the Buick division of General Motors for a line of full-size performance vehicles from 1936 to 1942 and 1954 to 1958, and from 1973 to 2005 for a mid-size car.

Buick renamed its entire model lineup for the 1936 model year to celebrate the engineering improvements and design advancements over their 1935 models. Buick's Series 40 model range became the Special, the Series 80 became the Roadmaster and the Series 90—Buick's largest and most luxurious vehicles, became the Limited. The Century took the place of the Series 60.
The basic formula for the 1936 to 1942 Century was established by mating shorter wheelbase Buick Special bodies to Buick's most powerful eight-cylinder engine. While the Special was powered by Buick's 233in³ was rated 93hp at 3200rpm, Centuries produced between 1936 to 1942 were powered by Buick's inline 320.2in³ at 120hp, making them the fastest Buicks of the era and capable of sustained speeds of 95mph plus, earning the Century the nickname "the banker's hot rod."

The Century was discontinued at the end of the abbreviated 1942 model year, during which total model production only accounted for about ten percent of Buick's total output.

In 1954, Buick reintroduced the Century using the same formula of mating the smaller, lighter Buick Special body to its largest and most powerful 322 cubic inch V8 engine with the intent of giving Buick a performance vehicle. Included in the model lineup during this period was a station wagon model, a body style that had been unavailable during the Century's first production period of 1936 to 1942.



» Read More About Buick Century