id:a1209901515b1692452
2004 Audi TT
Photo #2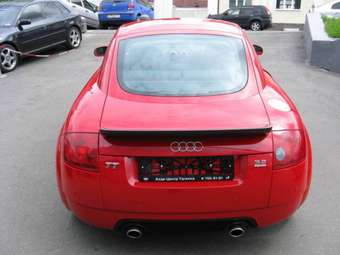 Photo Information (Width: 340px, Height: 255px, Size: 10Kb)
The TT is available with a 1.8-liter turbocharged inline-4 with 180 hp or the optional 1.8-liter turbocharged inline-4 with 225 hp. ABS is standard. Other options include front, or all wheel drive and manual or automatic transmission.
2004 Audi TT specs
The Audi TT is a sports car manufactured by Audi since 1998 in Győr, Hungary, now in its second generation — and available as a 2+2 coupé or two-seater roadster.

The development of the Audi TT began in September 1994 at the Audi Design Center in California. The TT was first shown as a concept car at the 1995 Frankfurt Motor Show. The design is credited to J Mays and Freeman Thomas with Martin Smith contributing to the award winning interior design. A previously unused laser welding adaptation that enabled seamless design features on the first-generation TT, also delayed its introduction.
Used Audi TT
Audi did not initially include an automatic transmission option for the TT. A DSG (S-Tronic) became available, the first for a production car, in 2003.

The TT is named for the successful racing tradition of NSU in the British Isle of Man TT motorcycle race. NSU began competing in the TT in 1911 and later merged into the company now known as Audi. The Audi TT also follows the NSU 1000TT, 1200TT and TTS cars of the 1960s in being named for the race.

The Audi TT Roadster was presented in Detroit in 1999 under the name Audi TTS. After one year the name was changed to Audi TT Roadster.[citation needed]

The production model (internal designation Typ 8N) was launched as a coupé in September 1998, followed by a roadster in August 1999, based on the Volkswagen Group A4 (PQ34) platform used for the Volkswagen Golf Mk4, Skoda Octavia and others. The styling differed little from the concept, except for slightly reprofiled bumpers and the addition of a rear quarterlight windows behind the doors.



» Read More About Audi TT