id:a1238560813b2586443
The 2003 Audi S8 is powered by a 4.2L 360-hp V-8 engine. With a quattro IV permanent all-wheel drive system, this performance sedan is equipped with a five-speed automatic transmission.
1995 AUDI S8
Photo #1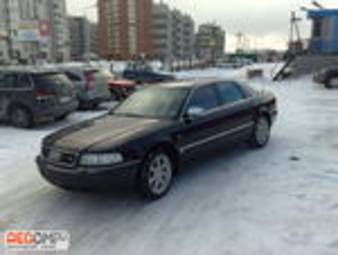 Photo Information (Width: 338px, Height: 255px, Size: 10Kb)
More photos of
AUDI S8
S8 Troubleshooting
Over heating
1999, And Intefy Motarartvaa heat and when you
run the car is good and determined Baadalthrk w...
The gear box
2000, the gear box dont work for the electric
and it is broken...
| | |
| --- | --- |
| Engine size - Displacement - Engine capacity: | 4200 cm3 |
| Transmission Gearbox - Number of speeds: | Automatic |
| Fuel Type: | Gasoline |
| Price (out of date): | $14454 |
1995 AUDI S8 specs, Engine size 4.2, Fuel type Gasoline, Transmission Gearbox Automatic
| | |
| --- | --- |
| | The Audi S8 quattro is a high-performance version of the German automaker Audi's flagship vehicle, the Audi A8. It is a large luxury executive car, and was introduced in 1998, four years after the A8's introduction to the European market. It is only available as a four-door saloon/ sedan. |
The S8, like all Audi "S" models, is fitted as standard with Audi's trademark quattro four-wheel drive (4WD) system, with the S8 using the Torsen-based permanent 4WD.
Its main market competitor could include the Mercedes-Benz S63/ 65 AMG.
In 1998, Audi introduced the Audi S8 4.2 quattro (Typ 4D) into the European market, a high-performance version of the Audi A8 in the vein of Mercedes-Benz AMG models, sharing the A8's all aluminium monocoque "Audi Space Frame", and Volkswagen Group D2 platform.
Production of this original S8 ended in 2003, shortly before the introduction of the current D3-platform A8.
The D2 S8 was also featured in the 1998 film Ronin.
D2 powertrain
The S8 featured a re-tuned, 350PS (257kW; 345bhp) version of the standard 4,172cc (254.6cuin) 90° V8 petrol engine.

A sports-recalibrated version of the five-speed tiptronic automatic transmission (gear ratios - 1st: 3.571, 2nd: 2.200, 3rd: 1.505, 4th: 1.000, 5th: 0.804), featuring "Dynamic Shift Programme" (DSP) was standard, with European-spec. models having a six-speed manual transmission option. Torsen T-2 based quattro permanent four-wheel drive was also standard. Final drive ratio (for automatic transmission) is 3.730.



» Read More About AUDI S8