id:a1244156436b2743451
The Audi S4 comes stock with a 2.7-liter V6 biturbo engine which produces 250 hp. ABS is one of many standard features.
2006 AUDI S
Photo #2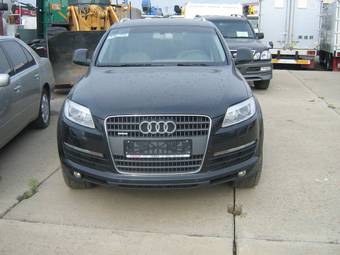 Photo Information (Width: 340px, Height: 255px, Size: 14Kb)
| | |
| --- | --- |
| Engine size - Displacement - Engine capacity: | 4200 cm3 |
| Transmission Gearbox - Number of speeds: | Automatic |
| Fuel Type: | Gasoline |
| Price (out of date): | $60000 |
2006 AUDI S specs, Engine size 4.2l., Fuel type Gasoline, Transmission Gearbox Automatic
AUDI AG, (Xetra: NSU) is a German luxury car manufacturer which produces cars under the Audi brand, (pronounced / aˈʊdi/ ). The name Audi is based on a latin translation of the word "Horch", itself the German word for "hark." Another explanation for the origin of the name is as an acronym for "Auto Union Deutschland Ingolstadt."

Audi is headquartered in Ingolstadt, Bavaria and has been an almost wholly-owned (99.7%) subsidiary of the Volkswagen Group (Volkswagen AG) since 1964. Volkswagen Group incorporated Audi when it was acquired as part of Volkswagen's purchase of the Auto Union and NSU Motorenwerke AG (NSU) assets.
Audi's corporate tagline is Vorsprung durch Technik, meaning "Advancement through Technology"[citation needed]. The German-language tagline is used in many European countries, including the United Kingdom, and in other markets, such as Latin America, Oceania and parts of Asia including Japan. The North American tagline is "Innovation through technology", but in Canada the German tagline Vorsprung durch Technik is now used in advertising.

The company traces its origins back to 1899 and August Horch. The first Horch automobile was produced in 1901 in Zwickau. In 1909, Horch was forced out of the company he had founded. He then started a new company in Zwickau and continued using the Horch brand.

His former partners sued him for trademark infringement and a German court determined that the Horch brand belonged to his former company. August Horch was barred from using his own family name in his new car business, so he called a meeting at the apartment of Franz Fikentscher to come up with a new name for his company. During this meeting Franz's son was quietly studying Latin in a corner of the room. Several times he looked like he was on the verge of saying something but would just swallow his words and continue working, until he finally blurted out, "Father– audiatur et altera pars... wouldn't it be a good idea to call it audi instead of horch?". "Horch!" in German means "Hark!" or "listen", which is "Audi" in Latin (compare audible). The idea was enthusiastically accepted by everyone attending the meeting. It is sometimes (incorrectly) believed that AUDI is a backronym (a reversed acronym) which stands for "Auto Union Deutschland Ingolstadt".



» Read More About AUDI