id:a1237280454b2550459
2003 Acura TSX
Photo #1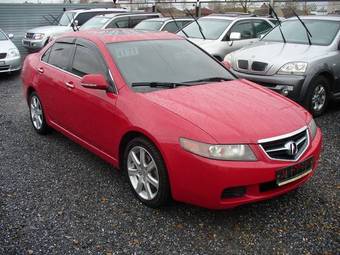 Photo Information (Width: 340px, Height: 255px, Size: 19Kb)
| | |
| --- | --- |
| Engine size - Displacement - Engine capacity: | 2400 cm3 |
| Transmission Gearbox - Number of speeds: | Automatic |
| Fuel Type: | Gasoline |
| Drive wheels - Traction - Drivetrain: | FF |
| Price (out of date): | $18657 |
Acura's midsize sedan slated between the TL and the RSX.
2003 Acura TSX specs, Engine size 2.4l., Fuel type Gasoline, Drive wheels FF, Transmission Gearbox Automatic
This page is about this vehicle's North American model, see Honda Accord for article.

The Acura TSX is an entry-level luxury car manufactured by Honda. Introduced in April 2003, it was sold only in the United States and Canada, but from the 2009 model year on it will also be available in Mexico. It is sold in North America under the Acura luxury marque, where it filled the gap as Acura's 4-door, entry-level sedan when the Integra sedan was discontinued in 2001 (1996 in Canada since the EL was the Integra sedan's replacement there). The TSX would also eventually replace the Acura RSX (which in turn succeeded the Acura Integra coupe). As of 2008, the TSX is the smallest vehicle in the Acura model line, other than the Civic-based CSX (and the preceding 1.6/ 1.7EL) sold only in Canada. All TSXs are built in Sayama, Saitama, Japan.
The TSX is badge engineered from the CL-series Accord (also known as the European Accord or JDM Accord) sold in Europe, Japan and Australia. The TSX initially had a restyled interior and different suspension tuning than the European Accord when it was introduced, however since 2008 the interior is now standardized for all three markets. In the Australian & New Zealand, the CL-series is sold Accord Euro, a smaller mid-size car, where the USDM Accord is sold in the large car category. In North American, the TSX is sold alongside the mid-size luxury Acura TL, which itself is based on the USDM Accord, as well as the USDM Accords sold under the Honda name.
Overview
The 2008 model year TSX's powertrain was comprised of a 2.4-litre inline four-cylinder engine, a six-speed manual transmission (which featured a magnesium casing, to reduce weight), and a front wheel drive layout. A five-speed automatic transmission was optional and did not incur extra cost in the U.S. based on MSRP, however such was not the case in Canada. The TSX's suspension setup of a double wishbone front and a multi-link in the rear was especially tuned by the Honda engineers to maximize handling and cornering speed.



» Read More About Acura TSX