id:a1244117412b2742501
2004 Acura RSX
Photo #1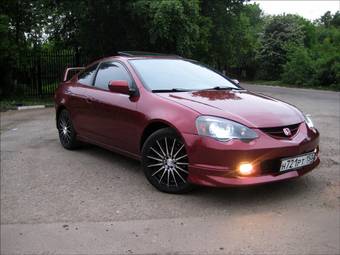 Photo Information (Width: 340px, Height: 255px, Size: 14Kb)
| | |
| --- | --- |
| Engine size - Displacement - Engine capacity: | 2000 cm3 |
| Transmission Gearbox - Number of speeds: | Automatic |
| Fuel Type: | Gasoline |
| Drive wheels - Traction - Drivetrain: | FF |
| Price (out of date): | $19200 |
Acura's replacement for the Integra. 2.0 liter 4 cylinder iVTEC. Only available in 2 door hatchback.
2004 Acura RSX specs, Engine size 2.0, Fuel type Gasoline, Drive wheels FF, Transmission Gearbox Automatic
This article is about the automobile.

The Honda Integra DC5 is a Japanese vehicle, which was also known as the Acura RSX in North America and Hong Kong. It is available in base and "Type-S" trim levels in North America, and a "Integra iS / Integra Type S" and "Type R" version sold in Japan and Oceania. However, to add to the confusion, the "Type R" sold in Oceania is very similar to the "Type-S" sold in North America, and the Integra line naming in Oceania have recently been realigned so it's similar to North American conventions. Canada had three models: Base (cloth interior, no sunroof, steel wheels with wheel covers), Premium (leather interior, sunroof, alloy wheels) and Type S. In other places, (eg. Hong Kong, Singapore, Australia) only the base version is available.
When designing the Integra, Honda chose to base it on an entirely new platform, rather than incrementally re-engineering the previous Integra/ Civic platform. This new chassis would also be shared with the 2001 Civic. This was a significant change from the previous 1998 revision of the Integra, which had only been a minor refresh. In addition, this platform was the first entirely new entry-level chassis Honda had debuted since 1994. Owing to its more capable and luxurious nature, the Acura division chose to market the vehicle as the Integra's replacement, and badged it as the RSX. Touting the vehicle's more upscale feature-set and more luxurious amenities, Acura hoped to use the RSX to help garner more brand recognition and respect from older, wealthier buyers who tended to see the company's offerings, especially the Integra, as sporty and reliable, but not as mature or luxurious. Outside of North America, where the Acura division did not exist at the time, Honda chose to continue selling the model as the Integra, and continued to aim the car at younger men who wanted something more upscale than a Civic Si without having to spend considerably more money.



» Read More About Acura RSX