id:a1246264897b2798849
2008 Acura RDX
Photo #5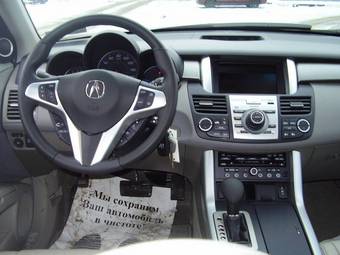 Photo Information (Width: 340px, Height: 255px, Size: 16Kb)
| | |
| --- | --- |
| Engine size - Displacement - Engine capacity: | 2300 cm3 |
| Price (out of date): | $54627 |
2008 Acura RDX specs, Engine size 2.3l.
The Acura RDX is Acura's first compact crossover SUV. Originally previewed as the Acura RD-X concept car, the production RDX had its debut at the 2006 New York Auto Show and went on sale on August 11, 2006.

The RDX takes over from the MDX as Acura's entry-level crossover SUV, as the MDX continues to grow in size and price. Although the dimensions of the vehicle are similar to that of the Honda CR-V, Acura claims the RDX uses a unique platform developed to handle the vehicle's advanced all-wheel drive system.
Used Acura RDX
The RDX is powered by Acura's first turbocharged gasoline engine. The 2.3-liter straight-4 K23A1 engine has all-aluminum construction, an i-VTEC head, and dual balance shafts. It is also one of the first and only four-cylinder powered luxury SUVs. Acura's variable flow turbocharger reduces turbo lag by using a valve to narrow the exhaust passage at low rpm, increasing the velocity of the exhaust flow and keeping the turbine spinning rapidly. At higher rpm, the valve opens to allow more exhaust flow for increased boost. The engine also features a top-mounted intercooler which receives air from the grille, channeled by ducting under the hood. The Acura RDX engine is rated at 240bhp (179.0kW; 243.3PS) at 6000 rpm with a torque peak of 260ft·lbf (350N·m) at 4500 rpm. The U.S. Environmental Protection Agency (EPA) estimated fuel mileage is 19mpg-US (12L/ 100km; 23mpg-imp) city and 23mpg-US (10L/ 100km; 28mpg-imp) highway miles per gallon. New more realistic EPA mileage estimates as of February 2007 are 17mpg-US (14L/ 100km; 20mpg-imp) city and 22mpg-US (11L/ 100km; 26mpg-imp) highway. The recommended fuel is premium 91 octane unleaded.



» Read More About Acura RDX