id:a1248080447b2869759
The Acura Integra is powered by a 1.8-liter DOHC 16-valve 4-in-line with 140 or 170 hp coupled with a 5-speed manual or 4-speed automatic. ABS is standard. Available in 2 or 4 doors.
1995 Acura Integra
Photo #1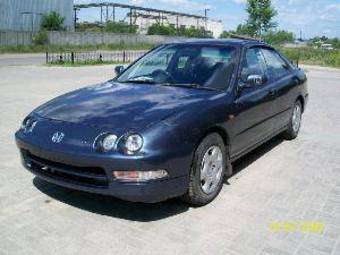 Photo Information (Width: 340px, Height: 255px, Size: 15Kb)
| | |
| --- | --- |
| Engine size - Displacement - Engine capacity: | 1800 cm3 |
| Transmission Gearbox - Number of speeds: | Automatic |
| Fuel Type: | Gasoline |
| Drive wheels - Traction - Drivetrain: | FF |
| Price (out of date): | $3776 |
1995 Acura Integra specs, Engine size 1.8, Fuel type Gasoline, Drive wheels FF, Transmission Gearbox Automatic
| | |
| --- | --- |
| | Acura (Japanese: アキュラ, Akyura) is the luxury vehicle division of Japanese automaker Honda Motor Company. It primarily competes with Lexus, Infiniti and BMW among others in the luxury vehicle segment. The Acura brand has been used in the US, Canada, and Hong Kong since March 1986 to market Honda's performance vehicles and near-performance vehicles. The brand was introduced to Mexico in 2004 and to China in 2006. The Acura brand will be introduced in Russia at the end of 2008. Honda plans to introduce Acura to the Japanese domestic market (JDM) sometime around 2010. With the Acura brand, Honda is credited with being the first Japanese company to tap into the foreign luxury market. Before Acura, Japanese automobiles exports were primarily economical in design and largely targeted at low-cost consumers. |
In 1986, following a decade of research, Honda opened 60 all-new dealerships in North America to support its Acura automobile division. Acura was the first Japanese luxury brand to be introduced, and its initial offering consisted of two models: the Legend, a V6-powered sedan, and the Integra, available as a five-door and three-door hatchback. The success of these models led to competing Japanese luxury brand ventures (Toyota's Lexus and Nissan's Infiniti).
Since 2006, actor James Spader has provided the voice-over for Acura commercials.
1990s
In 1990, four years after the debut of the Legend and Integra, Acura introduced the NSX, a midship V6 powered, rear-wheel-drive sports car. The NSX, an acronym for "New Sports eXperimental", was billed as the first Japanese car capable of competing with Ferrari and Porsche. This vehicle served as a halo car for the Acura brand. The NSX was the world's first all-aluminum production car, and was also marketed and viewed by some as the "Everyday Supercar" thanks in part to its ease of use, quality and reliability, traits that were unheard of in the supercar segment at the time.



» Read More About Acura