The History Of KIA Pride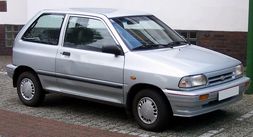 The Kia Pride is a subcompact car produced by South Korean automaker Kia Motors from March 1987 to 2000. It was a rebadged version of the Ford Festiva (introduced in Japan the previous year), sold in some markets as the Mazda 121. The Pride was replaced in 2001 by the Rio, which is also called Pride in South Korea, and by the Picanto.
The Pride was sold in four-door sedan (LX, GTX, β), three and five-door hatchback (CD-5) and five-door station wagon body styles. Originally powered by 1.1 or 1.3-liter carbureted petrol engines, the 1.1 unit was dropped in 1995 and the other received fuel injection in order to meet EU emissions requirements.
Production continued until the summer of 2000 when Kia launched the larger Rio. The Rio competed indirectly in the compact car segment against cars like the Ford Focus and Volkswagen Golf instead of the smaller subcompact model, where the Pride competed against the Volkswagen Lupo and also sold as the Ford Festiva.
SAIPA built the Kia Pride in Iran under license using up to 85% local parts content. The Saipa Pride remained in production from 2001 to 2005. SAIPA then began production of a new model based on the Pride called the Saipa 141 (a five-door hatchback) while continuing to sell the Iranian version of the Pride under the names Saipa Saba (four-door sedan) and Saipa Nasim (five-door hatchback). A pick up model of this car is going to be made in 2008 in saipa called Saipa Pick-Up. In Iran Prides continue to be the most common car with two out of five cars a Pride.
When Kia began importing cars to Europe in early 1991, the Pride was the only model to be sold in this part of the world until the arrival of the larger Mentor three years later. It was initially popular with budget buyers, but sales fell during the later years as more modern alternatives became available and many Kia buyers moved on to the marque's newer models which were bigger.
The Kia Rio, as it is known by most countries, is currently badged as the Kia Pride in South Korea. Visit and follow the link for 프라이드.

From Wikipedia, the free encyclopedia
More About KIA Pride
Used Cars For Sale | Car Specifications | Automotive Troubleshooting | New & Used Car Reviews | Privacy Policy
History KIA Pride - Pics Photos Wallpapers Images